July 03, 2020
How to Keep Your Storage Unit Clean!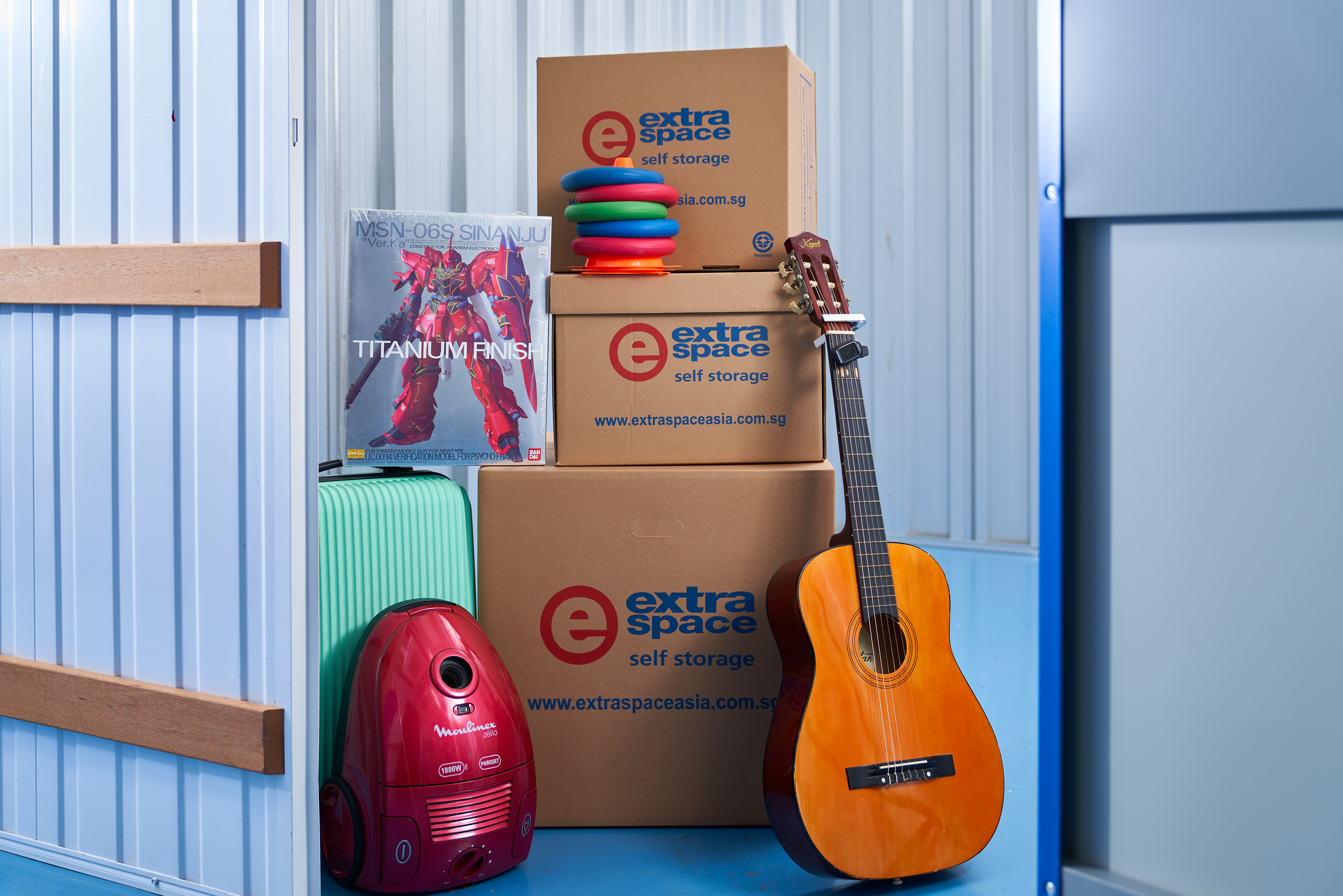 You've taken the first step, and have rented your first self-storage unit. If you're like most people, you're in it for the long run, perhaps on a 6-month basis or up to a year or more! For some, renting a storage unit and keeping their belongings would undoubtedly mean 'out of sight, out of mind.'
We at Extra Space Asia are all about hygiene and cleanliness, especially in times like these. This is why our premises are regularly sanitised and kept clean by a team of professionals frequently.
However, the cleanliness of your own unit falls outside our purview as we have no access to your unit. It's crucial to clean out your own unit every now and then as dust will build up and can lead to serious health complications. Studies have shown that the accumulation of indoor dust contains numerous chemicals that are harmful to one's health. So, we've come up with 3 tips to help you keep your unit clean and safe!
Psyche yourself up for the task
Tidying up seems to be a daunting task, which may lead to further procrastination. But instead of being overwhelmed, you can stop and visualise just how satisfying it would be if you get it done! After all, storage units can be seen as an extension of your home, it could give you the same sense of satisfaction once it's clean and neat! Set aside some time to complete the clean-up, but do remember to give yourself ample time. If the allocated clean-up time is limited, you might feel pressured to get it done and would probably not do a good job in the end. As the saying goes, 'Rome wasn't built in a day.' Rome wasn't built by one person alone too. So, bring along a friend or family member for that extra mental support!
Making a list of every item in your unit
It may have been a while since you last stepped into your unit, and it's not uncommon to forget what you've stored there. While it's a good practice to always keep an inventoried list of items, there may be times when we don't update this list accordingly. So, note and take down every item in your unit before cleaning, as it'll give you a better sense and idea of how much time you would need to clean.
"Does it spark joy?"
The next step here is where we take a page out of Marie Kondo's playbook. Hold up each item individually and ask yourself, "Does it spark joy?" If yes, keep it! If no, extend your thanks and gratitude to the item and remove it from your unit. While it may not be practical to actually do this to every single belonging in your storage unit, it's a good mentality to practise. Because if you've stuff in there that you've forgotten about, it shows that these items might not be as valuable and useful to you anymore. It could come in handy for others, especially the less fortunate should you decide to donate it to charity! For the items that you'll be keeping, dust them down either with a wet wipe, towel, or a microfibre duster. To prevent too much dust from getting onto your larger items, you can also use a cover to drape over them. Cloth tarpaulins are a popular choice here, amongst other options such as plastic wrappers or even old blankets!
Cleanliness is an important element in our lives, be it our personal hygiene, our homes, cars, and so on. The same emphasis we put on cleanliness applies to your storage units as well. If you ever need any advice, don't hesitate to reach out to us! Many of our staff are fellow storers as well and can give you their own personal tips and tricks.
Till then, stay clean and safe!