February 18, 2022
Self Storage Space for Rent FAQ: Should I rent a locker or a walk-in unit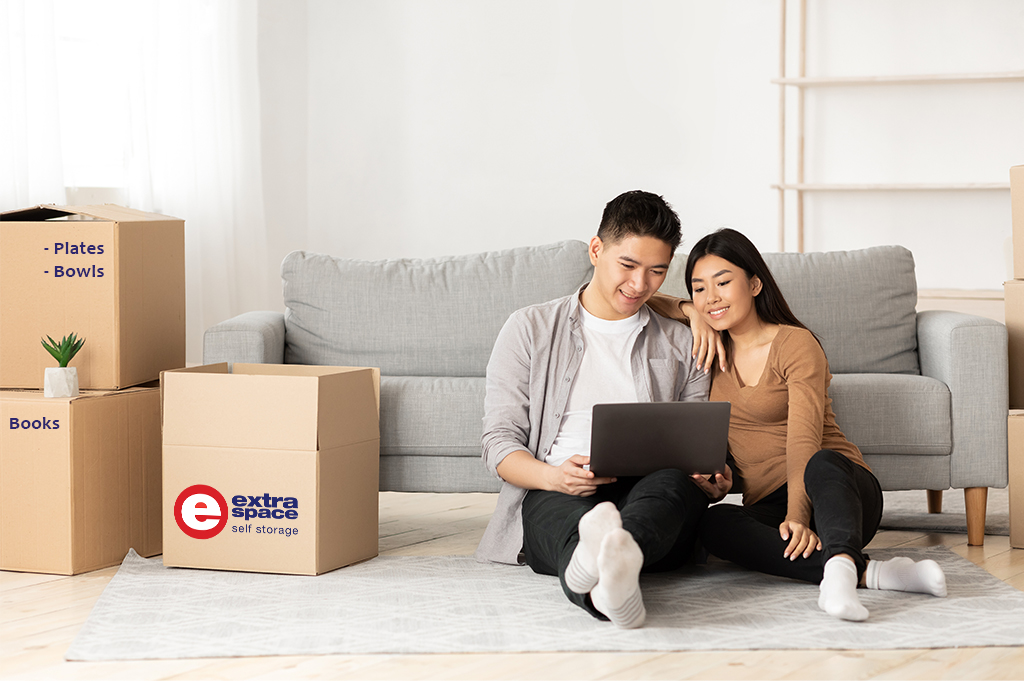 Thinking about renting a self-storage unit due for your growing business or upcoming home renovation? At Extra Space Asia, we know that it can be hard to decide what storage size you might need in order to store all of your home and business items.
Here are 3 useful tips to help you decide whether to rent a locker or a walk-in storage unit.
Gauge by the number of filled boxes

Prior to finding the nearest self-storage, keep track on the items you're really going to be stored in a storage facility. You can start by going through all of your items and separate them into the "Throw", "Donate" and "Keep" boxes. With this process, you'll not only be decluttering your items but also know how many boxes you'll be using.

Once you know how many boxes you'll be using, this number will determine how much storage space you need. For reference, Extra Space Asia Large box is 55cm x 55cm x 55cm. If you have less than five of these boxes, renting a Locker unit would be sufficient. One thing to note is that most storage spaces are charged by per square feet or per square metre. Therefore, all space rented should be put to good use. Otherwise, you'll be paying more for space you don't need.

Unsure about what storage sizes are available at the storage facility? Check out the size estimator function available on most self-storage websites or simply click here. The size estimator will usually show a sample illustration of each storage space ranging from the Locker units to all the various different walk-in units sizes. This would show you an estimate of what can be fitted into the storage unit, i.e. how many boxes and items, and the possible arrangement configurations.

With a size estimator, you can roughly gauge the type of storage size you might need for your items. This will help narrow down the options on whether to rent a locker unit or a walk-in storage unit.

Visit or call the storage facility directly

If you're someone who prefers to see the storage unit personally in order to better understand how the storage unit looks like in the various storage sizes, visit the facility instead. Some storage companies might need advance bookings, but storage facilities like Extra Space Asia Self-Storage welcome all customers to visit any of their 4 storage facilities during operating hours from 9am to 6pm, Mondays to Fridays and 9am to 1pm on Saturdays. No appointments needed!

Here are some benefits to visiting the storage facility personally:

View different storage sizes all in one day.
Understand how much it costs to rent the storage unit on a short-term and long-term basis.
Rent spaces immediately, prepay the storage rental accordingly, and you're good to move your items into your storage unit.
Purchase boxes or packing materials like bubble wrap and tapes directly from the storage facilities' Box Shop to pack all your items.

Do not have time to visit the storage facility? Call us at 1300 22 0288 to find out more! Simply let our storage consultants know what items you would like to store, and we'll be able to assist you from there. With the help of our friendly consultants, you'll be able to find the most suitable self-storage space. With Extra Space Asia, you can also choose to upsize or downsize your space anytime you like!

Did you know that Extra Space Asia opened our 4th storage facility at Kota Damansara? Come visit our new facility located in Emporis R-03A-03 today to have a personalize storage tour or contact us at +603-20274607 for a free storage quotation!